March 2010
£SOLD G32 Project. Restored Chassis. Complete car less seats and carpet. We will sell the chassis separately if required by someone with an otherwise good car. Would be an excellent basis for a Zetec conversion or a competition car or both!
Now has two sets of wheels and hopefully original seats are coming soon.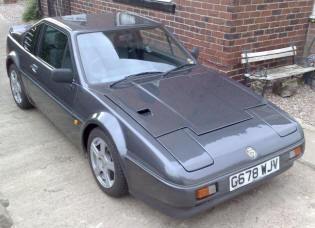 SOLD
This is the first production Ginetta G32. The first owner was Mr Barrington-Smyth a close friend of the Walkletts and renowned Ginetta enthusiast. It featured in the press at the time.
It is now for sale by the second owner; Wayne Godridge who has owned it for some 12 years, who by all accounts has looked after the car very well indeed.
It has covered 40,000 miles and benefits from stainless cooling hoses and exhaust system. It has AVO shocks fitted and also 15" Alloys. The original 14" alloys also come with the car. This interesting G32 has been maintained regardless of cost and will come with 12months MOT.
We are told that he interior is as it should be and this certainly looks to be the case from the picture.
1992 Ginetta G33 £13,750
SOLD August 2005
Sublime Ginetta G33 in metallic Ruby Red, hard top, soft top, tonneau cover, 4.5 litre blueprinted engine by JE Engineering, dry sump, Tuftrided, stage 3 ported, polished and big valve head, fast road cam, re-mapped, stainless balanced exhaust,
stainless petrol tank, stiffened chassis, up-rated springs, roll bar, 12,000 miles, 12
months MOT and tax. Pretty damn obviously loads of money spent! This car has been sprinted twice and used for charity fun track days but has not been abused and remains a sublime road car as well as an awesome sporting machine.