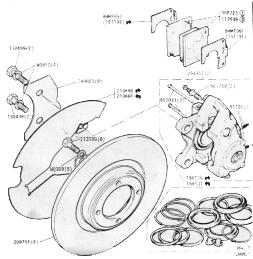 G15 Technical Guide - brakes
Early cars (up to chassis 298) should have standard Spitfire discs. Later cars used the same discs turned down to a diameter of 223mm to clear the calipers.
Up to chassis number 298, Girling calipers as used on the Mk 1 and 2 Spitfire, Herald 1200 and Vitesse 1600 were fitted. Later cars used Avenger (all models and no other car) calipers, which have a larger bore and piston.
Some Girling Type 14 calipers have different lug thicknesses -- eg. 14L MK2 needs to have the dust shield removed in order to centralise them on the disc.
The rear brakes have always been standard Imp. The handbrake cables appear to be standard Imp but 10" shorter.
For cars up to chassis number 297 the master cylinder bore is 0.625" from the standard Imp, the same as the clutch. For cars after chassis number 297 the cylinder bore is 0.7". In general, go for the 0.7" cylinder.
The pedal box on early cars (number not known) was a modified Imp box with extensions welded onto the driver's end of the box supporting a second, Ginetta made, pivot. The pedals were cut off and welded to sleeves turning on this new pivot and operating the cylinders via four flat pushrods. This has the effect of moving the brake and clutch pedals closer to the driver. Several dimensional variations from car to car exist so check your car before starting work. The body moulding for the pedal box changed on later cars so the standard Imp box could be used.
Master cylinder seal kit 0.625" SP1963
Master cylinder seal kit 0.7" SP2076
Wheel cylinder seal kit SP2027