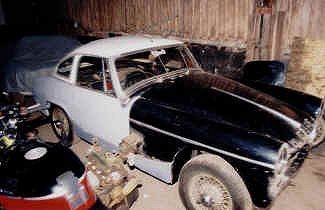 SOLD!
1967 MG 1275cc Midget Projectject
£1200
I bought this car as a part completed project, with V5 documentation. The shell has had well done sills and rear arch repairs and everything lines up nicely. It is an extremely solid shell. The wings are not great and as usual the bonnet is rusty on the leading edge ... but I've bought another car to break that has quite good ones and they can go with the deal. The idea was to turn it into an Historic Racer as in the pic right. I bought an Ashley hard top but the project still has a hood mechanism and an old hood too. Registered 1 July 1967 the project boasts the wire wheels, chrome bonnet and side trims, and the wind up windows of the Mk2 Midget and yet retains the nice black trim with white piping. Some of the interior is stripped out but comes with the car. All the fixtures and fittings are in good but grubby condition. The engine and gearbox are out of the car. The under-bonnet area has surface rust. As far as I know, there are no major parts missing. It even has its spare wire wheel!
In the end, I ran out of time and bought a car that was ready to race. Which is why I have bought a donor Midget to support my race car and this project. A purchaser could have pretty much anything they wanted from the donor car for free.
The car has been dry stored since the repairs and remains so.