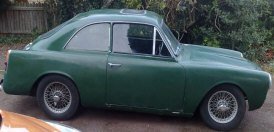 SOLD 5th December 2007
Complete running and driving Gilbern GT. It's an early car with a three bearing MGB 1800 engine so there are no heavy window frames and it has a nice number plate. This four seater sports car could do well in the FIA, HSCC, Classic Sports Car Club and Equipe GTS arenas. This is the most complete Gilbern GT we' ve ever seen! It runs, drives and even the brakes work ... the chassis needs attention though.

SOLD September 2005
1963 Gilbern 1800 GT
This would make an excellent historic race car and would be welcomed in the CSCC, HSCC and Equipe GTS series as well as the European series. It is
very light and uses the MGB engine and gearbox. The body shell is very sound with the floors removed to facilitate chassis repairs. New chassis sections are included. Late 1800 MGB engine with carbs and overdrive gearbox, full set of MGB Rostyle
wheels, two new Minilite style wheels with new tyres and a further two to match can be supplied at cost. Original wiring loom, dash and glass still fitted; most of the trim is missing but then it's not needed for a race car. We are happy to undertake as much of the chassis/bodywork/race preparation as you want. Did we say this car is very light? We think it looks rather like a mini Ashton Martin.