Funny how the past can suddenly leap up. In case you didn't know Joe Meek was the UK's first effective independent record producer. (It is held at NaTCH that "Just Like Eddie" by Heinz was probably his best record.) On the 3rd February 1967 he shot his landlady dead and then himself.

This article by John Repsch pinched from Studio Sound describes the shortcomings of Cliff Cooper in the matter of Joe Meek's tapes. (Though to give Cliff Cooper his due £400 was a lot more money in 1967/8.) The past leaping up? In a previous life Cliff Cooper managed a band called Crazy Mabel. The guitarist of Crazy Mabel was his Lordship's best man. What's more Mr Cooper also had dealings with a band containing the bass player Mick Philips, a one time fiancé of NaTCH's sister.

Update: Feb 03 - The company that bears Joe Meek's name has been "absorbed".

Update: Jan 03 - It would seem a reasonable assumption that Cliff Cooper is something to do with the Cooper Owen Auction House offering Orange amps and, at several hundred pounds, reproduction John Lennon sunglasses.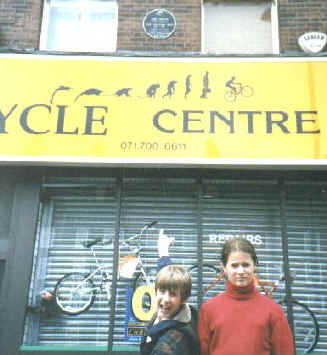 This is the plaque at 304 Holloway Road where Joe Meek had his studio. In the foreground, for scale, are The BP and Lady KRJ.. Whilst we were taking the photies two young men kept piling out of that door you can just see on the left. They were loading a 5 cwt van with DJ record cases. Odd to think that some one in the music business might be living in Joe Meek's flat/studio and perhaps not know it!
If you persevere with the 'History' section of Glastonbury's web site you will find mention of the 1971 Glastonbury Fayre. In his guise as Arthur Brown's bass player NaTCH appeared at the Fayre. (There is a film of the event that occasionally sneaks onto tv.) As 1971 was a free festival the band played for free. so it didn't seem unreasonable to ask for something to eat. As NaTCH recalls he got a bowl of yogurt and a biscuit ... Arthur now has his own web site.