TVR Vixen SOLD December 2005
TVR Vixen pictured on the right prior to stripping down. The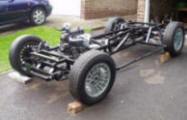 chassis has been subsequently restored and modified. The car is disassembled and in large lumps. The car would make an excellent historic race car for the Swinging Sixties or HSCC Series.
August Update: All the paint has been stripped from the body and there's a new bonnet as the original is a bit damaged.
As a result of George and his mates showing their dads how to do it the suspension is back on the car in a loose way so the car can be moved. (George and his chums were having a camping weekend in the field at the back of Cottage Classics!) The chassis is very sound though in our opinion it requires a few hours to replace one small tube at the front and put in some additional bracing. We would complete this task for £150 + VAT.
The chassis has been modified from the standard round tube type of chassis but fits the body well and the suspension pick ups have not been affected.
The engine is in one piece and has been running recently. We have for £300 a spare engine that allegedly has been rebuilt to a high standard. The rear screen is a used Perspex item but we have new one in stock. The only things that we can tell are missing are the lights. Front lights are standard items and we will be able to supply a rear set with the car.