SOLD April 2007
1963 TVR Grantura Mk3 £32,500
Built in 1963 DLX 8 C's chassis number shows she was the first 1800cc MGB engined car built and she has now been copiously and stylishly restored to make a good looking and competitive race car.
The car was unregistered until 1965 and with the documentation there is a copy of Autosport with the advert for her. The car was built as TVR went through one of its regular near bankruptcies which may explain why the car has some oddities such as Healey callipers rather than
the expected TR set up, and the the makers name has been removed from the chassis plate!
The first owner, Robin Chembray(?), sold DLX 8 C in January 1966 to Ken Knight who christened the car 'The Old Lady' and ran her as his only car. Ken believed the car to be a 1965 model though when he bought it the front badge was the oblong green TVR badge not introduced until late in 1966 suggesting the car had returned to the factory some time between 1963 and 1965. Ken worked as a pattern maker at Fords, Dagenham and carried out various mods including a Ford ventilation system! He made a wood rim steering wheel from scratch which we have along with a picture of him touring the car in Italy in 1967 plus various period bills and tax discs. The car was written off in 1988 and
when rescued from a scrap yard in 1996 needed virtual total restoration. TVR knew how to raid the parts bin, we sourced door locks and handles from a Ford Zodiac Mk 1, Wolseley 1500 and Standard 8!
Some of the specification:
o Six new wire wheels with L profile Dunlops for historic racing
o New hubs, suspension, etc. All the old parts are with the car and are generally serviceable including some period mods.
o Original three bearing engine and three synchro box with the car but fitted is a fully rebuilt four synchro box and 18V five bearing engine to FIA accepted period spec. The engine, built by TMW, has a racing Piper 756/106 cam with 460 thou lift, high capacity oil pump, baffled sump, new two inch SU's, and big valve gas flowed head.
o Diff (the best 4.1 ratio) and gearbox rebuilt by J R Daines.
o Instruments all rebuilt/renewed except speedometer and a digital rev counter in original case.
o New radiator, all hoses silicon, 'sealed' system header tank and alloy catch tank.
o All new wiring with fuses and relays behind dash.
o Full FIA mechanical fire system and cut off switch.
o Period leather seats.
o Perspex side and rear windows.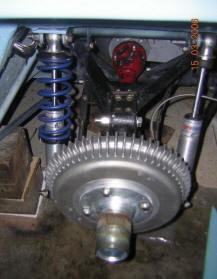 o New alloy foam filled fuel tank with the original fuel gauge rebuilt to suit.
o New brakes, rear valve, green stuff pads at front and silicon fluid.
o Oil cooler and hi torque starter.
o New lightweight bonnet and doors and though the car was originally white it has been repainted Triumph Powder Blue which was an original colour although to special order.
The paper work includes bills, etc from the cars earlier life with a lengthy history and there are bills for the restoration which, excluding most labour, total well over £40,000. Parts included in the sale include original dynamo, fuel tank, starter motor etc.

Separate:
Suitable for period racing brand new fully built (Peter Burgess) original HRG Derrington cross-flow head, to suit engine which includes stainless exhaust manifold, inlet manifold, and two genuine new Weber DCOE45's with linkages.