10:17am The Framlingham poll officer is already having to poke ballots in with a ruler, it does matter just bloody VOTE!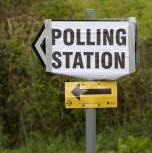 03:23pm We're hoping to see proxies (when a person nominates someone else to vote for them) of the emergency kind in use in Stradbroke.
06:50pm Earlier we spoke to prospective parish councillor Richard Pierce-Saunderson outside the Stradbroke poll. He was about to vote as an emergency proxy on some one else's behalf, we found it exciting. There was a steady stream in out of the Stradbroke poll, very quiet in Wilby, quiet in Brundish and steady in Dennington.
08:21pm Queue back to the door in Framlingham polling station. You have to be in the queue by 10pm to get a ballot paper ... not long to go.
10:19pm Too late now, Riverside Framlingham.